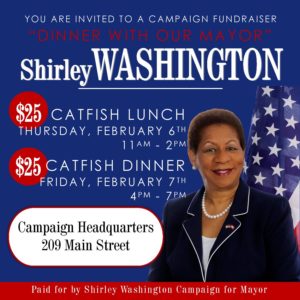 You are invited to a Campaign Fundraiser for the Honorable Mayor Shirley Washington!
This two-day event, themed as "Dinner With Our Mayor," will take place on Thursday, February 6, 2020 and Friday, February 7, 2020. The location is Mayor Washington's Campaign Headquarters at 209 Main Street in Pine Bluff, AR (71601).
Lunch will be served on that Thursday from 11am to 2pm. Dinner will be served on that Friday from 4pm to 7pm.
The menu will consist of catfish and all the trimmings. The cost is $25 per person.
The Pine Bluff Small Business Association will host a Meet the Candidates Mix & Mingle on Tuesday, February 11, 2020.
This event will take place from 5 to 7 P.M. at the Donald W. Reynolds Center, located at 211 West 3rd Avenue in Pine Bluff, AR (71601).
Light refreshments will be provided by Small Cakes, Hometown Roasters and The Hive Cafe.
Get to know the candidates and where they stand on various issues. Network with other participants who will be in attendance. Don't miss out on this event!
Divine 9 and Community Partners presents Candidates Forum 2020! 
Hear the views of political candidates on Thursday, February 6, 2020 at 6:00pm. This event will take place at the Pine Bluff Convention Center, located at 1 Convention Center Drive in Pine Bluff, AR.
The moderator will be the Honorable Judge Waymond Brown of the Arkansas Court of Appeals.
Candidates running in City and County Races will be featured. The individuals and positions include:
Mayor:  Shirley Washington, Steven Mays and Ivan Whitfield
City Clerk:  Janice Roberts and Sharon Hardin Rasberry
City Treasurer:  Greg Gustek and Cynthia Sims Mooney
City Council:  1st Ward – Lloyd Holcomb, Jr., Garland Trice and Sam Whitfield; 2nd Ward – George Stepps, Steven Shaner, Albert King, Jr. and Lloyd Franklin, Jr.; 3rd Ward – Glenn Brown, Sr. and Donald Hatchett
Justice of the Peace:  District 4 – Patricia Royal Johnson and Delton Wright; District 13 – Brenda Bishop Gaddy, Edward Spears, Sr. and Jeff Edwards.
Don't miss Candidates Forum 2020!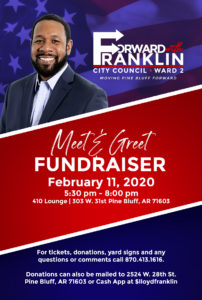 You are cordially invited to a Meet & Greet Fundraiser for Lloyd Franklin, a candidate for City Council – Ward 2!
This event is taking place on Tuesday, February 11, 2020 from 5:30 to 8:00pm. The location is the 410 Lounge, 303 West 31st in Pine Bluff, AR 71603.
Donations may also be mailed to 2524 West 28th in Pine Bluff, AR 71603 or Cash App at $lloydfranklin.
For tickets, donations, yard signs and any questions or comments, call 870.413.1616.
"If you know of someone who lives in Ward 2, phone a friend for yard space," Franklin said. "We would like to place a sign in their yard."
La Renee Ministries, Inc. presents Valentine's Dinner Date with Christ on Thursday, February 13, 2020!
This event will be held from 6:00 to 9:00pm at Upper Room Christian Church, located at 1100 South Cypress Street in Pine Bluff, AR.  According to a spokesperson, this event is described as being "great for everyone to attend whether single or married!"  It will feature free food, fun, fellowship and a movie entitled "The Dating Project." A discussion will also take place on the subject "Courting versus Hooking Up."
On Friday, February 14, 2020, Random Acts of Kindness will be occurring from 12:00 noon – until in Pine Bluff and McGehee, AR. 
"Keep your eyes open," says a spokesperson.  "You just might receive a blessing."
For more information, contact Rev. Lanette R. Frazier at 870.575.3619.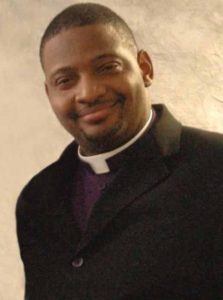 Please mark your calendar and make plans to attend the 29th Anniversary of Bishop Esau Watson, Jr.
Join Judah Restoration Worship Center during this special celebration scheduled for March 28-29, 2020.  The church is located at 2401 South Main Street in Pine Bluff, AR (71601).
A Banquet will take place on March 28th.  The time and location will be announced. The celebration will culminate with a special service on March 29th beginning at 3:30pm.
The guest speaker will be Bishop Troy Bronner, senior pastor at Elim Christian Fellowship in Buffalo, New York.
Let's celebrate the 100th Year Anniversary of the Pine Bluff Branch National Association for the Advancement of Colored People (NAACP)!
This special event will take place on Saturday, March 28, 2020. It will begin at 5:00pm at Bethany Chapel Missionary Baptist Church, located at 1923 South Olive Street in Pine Bluff, AR. Rev. Renice L. Davis is the host pastor. Classie Green is the celebration chair. Wanda V. Neal is the president.
Any person who donates $100 to support our Centennial Celebration will be photographed in a group photograph and given a complimentary copy of the photograph, according to a spokesperson.
A Roll and Scroll containing the names of the $100 donors and the group photograph will be placed on display in the Jefferson County Historical Museum, located at 4th Avenue and State Streets in Pine Bluff, the spokesperson said.