Are you between the ages of 14 to 18? Are you looking for a place to develop your employment skills? If so, the Hurricane HYPE Youth Workforce Development Program is for you!
This program offers young people the opportunity to get paid a stipend while you learn and get prepared for the workforce.
Are you interested? Then contact us today! Call (870) 534-2782 or (870) 536-8337 to pick up and fill out an application.
The Hurricane HYPE Center is located at 3319 South Ohio Street in Pine Bluff, AR (71601).
We are upgrading our public housing units and we want you to be a part of this $70 million opportunity. Join us as we launch the second phase of Redevelopment in the Rock at our Construction Bid Luncheon.
Clear your schedule for 11 a.m. Wednesday, January 29th, and meet us at the Centre at University Park, 6401 W. 12th Street in Little Rock. This is an opportunity you don't want to miss!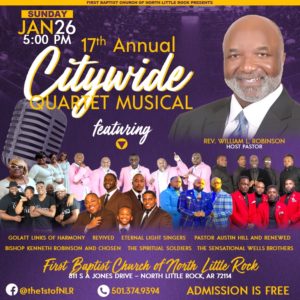 First Baptist Church cordially invites you to the 17th Annual Citywide Quartet Musical on Sunday, January 26, 2020!
This concert begins at 5:00pm at the church, which is located at 811 S.A. Jones Drive in North Little Rock, AR (72114), Rev. William L. Robinson is the host pastor.
Don't miss the musical ministries of the Golatt Links of Harmony, Revived, Eternal Light Singers, Pastor Austin Hill and Renewed, Bishop Kenneth Robinson and Chosen, The Spiritual Soldiers and The Sensational Wells Brothers.
Admission is free. For more information, call 501.374.9394.
La Renee Ministries, Inc. presents Valentine's Dinner Date with Christ on Thursday, February 13, 2020!
This event will be held from 6:00 to 9:00pm at Upper Room Christian Church, located at 1100 South Cypress Street in Pine Bluff, AR.  According to a spokesperson, this event is described as being "great for everyone to attend whether single or married!"  It will feature free food, fun, fellowship and a movie entitled "The Dating Project." A discussion will also take place on the subject "Courting versus Hooking Up."
On Friday, February 14, 2020, Random Acts of Kindness will be occurring from 12:00 noon – until in Pine Bluff and McGehee, AR. 
"Keep your eyes open," says a spokesperson.  "You just might receive a blessing."
For more information, contact Rev. Lanette R. Frazier at 870.575.3619.