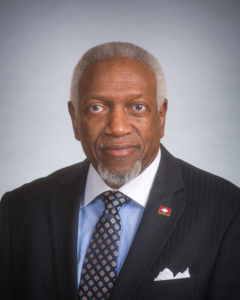 The National Association for the Advancement of Colored People (NAACP), Pine Bluff Branch, announces the 28th Annual Dove Freedom Fund Banquet.
This event is scheduled for Friday, October 18, 2019 at 6:30 p.m. at the Pine Bluff Convention Center — One Convention Center Plaza in Pine Bluff, AR. Wanda V. Neal is president of the Pine Bluff Branch.
The speaker for the Freedom Fund Banquet will be the Honorable George B. McGill, newly elected mayor of Fort Smith, AR.
Tickets are $40 per person. A Patron Level sponsor receives a table of eight for $320 and a listing in the souvenir booklet. A Bronze Level sponsor receives a reserved table with seating for eight for $400. This also includes a listing in the souvenir book and recognition in the Pine Bluff Commercial.
A 1964 graduate of Lincoln High School, McGill received both his Bachelor of Science Degree in Education and Master of Business Administration from the University of Arkansas.
He served in the US Army (Field Artillery Fire Direction) and is a retired small business owner of The McGill Insurance & Financial Services, Inc.
He is the first African-American to ever run for mayor of Fort Smith. He is a former Democratic member of the Arkansas House of Representatives, representing District 78 from 2013 to 2019.
He was voted "Best of the Best Elected Officials" by Times Record subscribers in 2018.
McGill's legislative service includes serving as Deputy Pro Tempora of the House of Representatives, Legislative Rules Committee, Committee for City, County, and Local Affairs, Arkansas Legislative Council, past chairman of the Aging, Children, Youth Legislative and Military Affairs Committee, co-chair of Policy-Making Subcommittee for the Legislative Governing Board of the Council of State Governments, State and Public School Life and Health Insurance Program Legislative Task Force, Arkansas Veterans Home Task Force and Arkansas Hunger Relief Legislative Member.
A summary of McGill's legislative accomplishments include the following: sponsored a bill to assist Fort Smith with election filings; helped secure more than $1 million for Marshals Museum; assisted local hospitals in working with state agencies; opened a local office for constituent services; served as an active leader in protecting higher education funding; and had a perfect voting record on legislation related to protecting children and families.
He is a past chairman of the Fort Smith Planning Commission and the Arkansas Contractors Licensing Board. In addition, he is a former commissioner of the Arkansas Prevailing Wage Commission. As a member of the River Front Task Force Committee, he formed plans for river front pavilions in Harry E. Kelly Park.
McGill's volunteer service includes serving as a board member of Bost Foundation, Fort Smith Symphony, Fort Smith Boys & Girls Club, Fort Smith Historical Society and the Fort Smith Chamber of Commerce. He is a past member of Abilities Unlimited Board; a member of the Fort Smith Heritage Foundation; football coach for the Stephens Boys & Girls Club; a founding member of both the Bass Reeves Legacy Initiative and Fort Smith Round Table Civic Club; an advisor to the Elizabeth McGill Drop-In Center; a deacon at King Solomon Missionary Baptist Church; co-founder of the Yvonne Keaton-Martin Scholarship program at the University of Arkansas; and a past president, Darby Junior High School PTA.
His honors and recognitions include being a recipient of the following awards: The National Guard Association of Arkansas Joseph T. Robinson Award; Boys & Girls Club Champion of Youth Award; University of Arkansas School of Business Trailblazer Award; Fort Smith City Council PTA Outstanding Volunteer Award; Boys & Girls Club Hall of Fame; The Arkansas Municipal League Distinguished Legislator Award 2013, 2015 and 2017; Kids Count Coalition for Children 2013 Legislator of the Year Award; Outstanding Community Service Award – College of Business, University of Arkansas; Outstanding Community Service Award – Westark Community College; Frontier Achievement Award for Historic Preservation of the James Barnes House; Spirit of Frontier Award – City of Fort Smith; Outstanding Community Service Award – Lincoln Alumni Association; and Outstanding Community Service Award – Roy Gordon Youth Foundation.
McGill served as the guest speaker for graduating Honors students of the University of Arkansas School of Business and the Commencement speaker for first Fall Graduation at University of Arkansas – Fort Smith. He was also invited to be a keynote speaker at the 30th Anniversary for the Fall of the Berlin Wall in Berlin, Germany.
The Delta Rhythm & Bayous Alliance and Pine Bluff Advertising and Promotion Commission held an unveiling of the "Freedom & Blues Exhibition" and launch of the Explore Pine Bluff Visitor Information Center on Thursday, June 27th.  The event took place from 5:00-7:00 p.m. at 615 S. Main Street (UAPB Business Support Incubator) in Pine Bluff, AR.
Coordinated by the Delta Rhythm & Bayous Alliance (DRBA), the Freedom & Blues Exhibition highlights the interconnectedness of the African American freedom struggle and the prodigious blues legacy from Pine Bluff, AR to Greenville, MS. Through visual art, photographs, musical instruments and other memorabilia, the Freedom & Blues Exhibition weaves a nuanced story of human achievement, resilience, and challenge about its residents and artists living on the Delta Rhythm & Bayous Highway (U.S. 65 and 82).
The Explore Pine Bluff Visitor Information Center provides information and support for the many cultural and recreational outlets in the area. Whether guests are visiting Pine Bluff for the first time, have recently relocated to Pine Bluff, or are established residents, the friendly staff at Explore Pine Bluff stands ready to provide information on Pine Bluff's attractions, tours, accommodations, dining, events and more.
Both the Explore Pine Bluff Visitor Information Center and the Freedom & Blues Exhibition are open Monday-Friday, 8 AM – 5 PM. For more information, call 870.534.2121.